Global News
Wonder Studio: Revolutionizing VFX with AI-Powered Animation
Welcome to Wonder Studio, where the magic of AI meets the world of visual effects. In a world driven by innovation and technological advancements, Wonder Studio emerges as a game-changer, offering a seamless blend of creativity and automation in the realm of computer-generated character animation. No credit card required to embark on this journey of wonder!
The Wonder Studio Revolution
In a world where movie-making and visual storytelling continue to evolve, Wonder Studio emerges as a revolutionary force. It's not just a tool; it's a paradigm shift. Imagine a world where creating stunning visual effects becomes as simple as pointing a camera. Wonder Studio turns this imagination into reality.
A VFX Studio in Your Browser
No More MoCap, no complicated 3D software and no expensive production hardware—all the artist needs is a camera. This is where Wonder Studio truly shines. It's a VFX studio accessible right from your browser.
No Need to Work Shot-by-Shot
Forget the days of painstakingly working on each shot individually. With Wonder Studio, you can upload your CG character model to a single shot or an entire scene, and the system will automatically detect cuts and track the actor throughout the sequence. No more manual shot tracking.
No Need for Heavy Frame-by-Frame VFX Work
Gone are the days of laborious frame-by-frame VFX work. Wonder Studio automates the process by detecting the actor's performance based on single-camera footage and seamlessly transferring it to the CG character. The result? Your character is automatically animated, lit, and composed, saving you time and effort.
Saying Goodbye to the Old Ways
So easy an alien could do it—that's the promise of Wonder Studio. No more wrestling with complicated 3D software or enduring the steep learning curve. Wonder Studio simplifies the process, making it accessible to artists of all levels of expertise.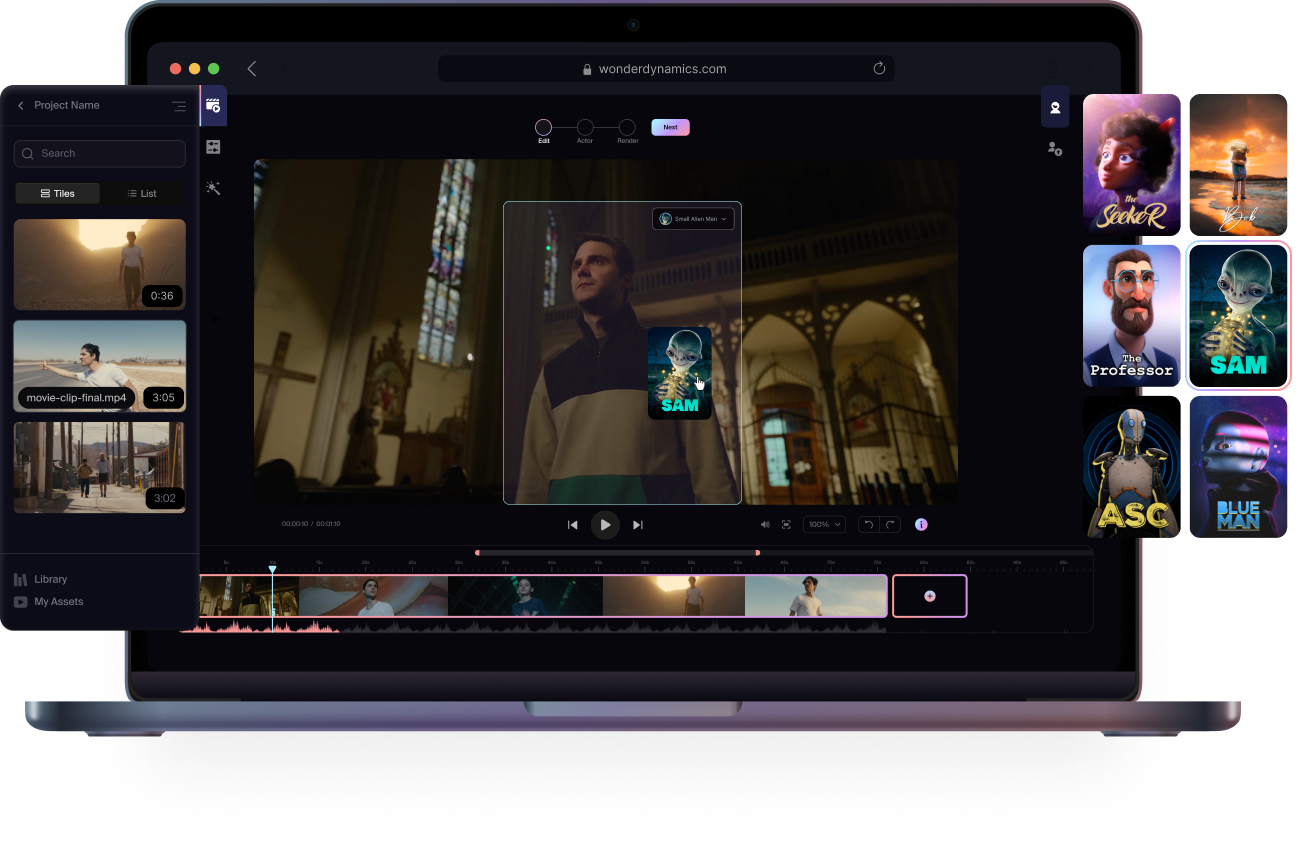 The Visionaries Behind Wonder Studio
Behind this groundbreaking innovation are visionaries who have reshaped the landscape of visual effects. Meet the faces steering the ship:
Nikola Todorovic: Co-Founder and CEO
Tye Sheridan: Co-Founder and President
But they're not alone in this journey. Wonder Studio boasts an impressive advisory board, including luminaries like:
Joshua Baer: Founder & CEO, Capital Factory
Terry Dougas: Producer and financier of Film and TV. Founder of Rhea Films, 1821 Media
Angjoo Kanazawa: Assistant Professor at the University of California, Berkeley.
Joe Russo: Director, screenwriter, and producer
Robert Schwab: Private equity investor, President, and CEO of R&L Properties.
Steven Spielberg: Film director, producer, and screenwriter
Antonio Torralba: Professor and Head of AI and Decision making, EECS, Massachusetts Institute of Technology (MIT).
Gregory Trattner: President, Film Finances Inc. (World leader in completion guarantees and film services)
With such a diverse and accomplished team, the future of Wonder Studio looks brighter than ever.
Unleash Your Imagination with Multiple Characters
One of the standout features of Wonder Studio is its ability to create Sci-Fi worlds by assigning multiple characters. This feature opens up a universe of creative possibilities, allowing you to tell your stories with depth and complexity.
Investors Believe in the Future
Investors see the potential in Wonder Studio, and they're on board for this exciting journey. The support of these investors is a testament to the game-changing nature of this platform.
Adding a Touch of Magic: Dynamic Camera and Lighting
Wonder Studio isn't just about automating the mundane. It's about adding a touch of magic to your projects. With dynamic camera and lighting options, you can elevate your scenes to a whole new level of cinematic excellence.
Your Unique Stylized Character
One of the most captivating aspects of Wonder Studio is the ability to seamlessly compose your unique stylized character into any live-action shot. Whether you choose to upload your own 3D model or explore the free characters from the artist community, your character becomes a part of your storytelling canvas.
Getting Started with Wonder Studio
You might be wondering how to embark on this incredible journey with Wonder Studio. Getting started is easier than you think. Here's a simplified breakdown:
Export Individual Elements: Begin by exporting the necessary elements for your project. These may include motion capture data, character passes, alpha masks, clean plates, camera tracks, Blender files, and final renders.
Upload Your CG Character: Import your CG character model into Wonder Studio.
Let Wonder Studio Work Its Magic: Sit back and relax as Wonder Studio's AI takes over. It will automatically animate, light, and compose your character based on the provided footage.
Add Your Personal Touch: Once the automated process is complete, you can add your personal touches and fine-tune the details to achieve your desired look.
Export Your Masterpiece: When you're satisfied with the result, export your masterpiece and incorporate it into your project.
Frequently Asked Questions
Q1: Is Wonder Studio suitable for beginners?
Absolutely! Wonder Studio is designed to be user-friendly and accessible to artists of all levels, making it a great choice for beginners and seasoned professionals alike.
Q2: Can I use my own 3D character models with Wonder Studio?
Yes, you can! Wonder Studio allows you to upload your own 3D character models, giving you complete creative control.
Q3: What kind of projects is Wonder Studio suitable for?
Wonder Studio is versatile and can be used for a wide range of projects, from film and TV production to video game development and more.
Q4: Is there a free trial available?
Yes, Wonder Studio offers a free trial, so you can explore its features and see how it can benefit your projects.
Q5: How can I get in touch with the Wonder Studio team for support?
You can reach out to the Wonder Studio team through their website's contact page for any inquiries or support you may need.
Summary
In a world where creativity and technology intersect, Wonder Studio stands as a beacon of innovation. This AI-powered tool redefines the way we approach visual effects, making it accessible to all. Say goodbye to the complexities of 3D software and embrace a future where your imagination knows no bounds. With a team of visionaries and investors on board, Wonder Studio is poised to shape the future of visual storytelling.
Are you ready to embark on this journey of wonder? Try Wonder Studio today and unlock the magic of AI-powered animation.