Cars News
Volkswagen Upcoming Cars in USA 2023 & 2024
Volkswagen is one of the most renowned car manufacturers in the world, offering a wide range of vehicles that cater to various lifestyles and budgets. For years, VW has been a dominant force in the European car market, but over the past few years, they have set their sights on the American market. The German automaker plans to launch several new cars in the USA over the next few years, including some exciting models packed with innovative technology and advanced features. In this blog, we'll take a closer look at what Volkswagen has in store for us with upcoming cars in USA 2023 & 2024. So buckle up and get ready for an exhilarating ride into the future of VW cars!
1. Introduction: Volkswagen's Plan to Launch Upcoming Cars in the USA
As a car enthusiast, I'm always excited about the latest offerings from top automakers. Volkswagen, in particular, has been making waves in the industry with its ambitious plan to launch ten new electric models in the US by 2026. In this blog, we will explore Volkswagen's upcoming cars in the USA in 2023 and 2024.
Volkswagen has set its sights on expanding its market share in the US, and their plan is to release a wide range of vehicles, from entry-level SUVs to luxury sedans and midsize trucks. Their expansion strategy includes local production, and by 2030, the majority of the new electric vehicles introduced to the US market will be made in the US or Mexico.
The Taos, an entry-level SUV launched in 2021, is one of Volkswagen's new offerings. It's designed to appeal to millennials and has received raving reviews so far. Another standout vehicle in Volkswagen's lineup is the all-electric ID.4 SUV, which is assembled locally in Chattanooga, TN. With a sleek design, impressive performance, and a spacious interior, the ID.4 is a true game-changer in the EV world.
If you're a fan of performance cars, Volkswagen has two exciting options for you – the Golf GTI and Golf R, both featuring a turbocharged engine, impressive handling, and a sporty design. On the other end of the spectrum, the Volkswagen Arteon is a midsize luxury sedan with coupe-like styling, making it a statement-making choice for drivers who want to stand out.
Volkswagen is also planning to introduce an electric variant of its iconic Microbus in 2023, a vehicle that's sure to turn heads on the road. And if you need a spacious SUV with 3-row seating, the Tiguan should be on your list. It's practical, stylish, and versatile, making it a great choice for families.
Last but not least, the Volkswagen Amarok is a midsize truck that's expected to join the US market in 2022-23. With a focus on durability, off-road capabilities, and reliability, the Amarok is poised to compete head-on with other midsize trucks.
In conclusion, Volkswagen's plan to launch ten new electric models in the US by 2026 is an ambitious and exciting development. With a wide range of vehicles catering to different needs and tastes, Volkswagen's expanded lineup is sure to attract a lot of attention. Whether you're in the market for a luxury sedan, an all-electric SUV, or a midsize truck, Volkswagen's lineup has got you covered.
2. Volkswagen's Expansion Strategy in the American Market
Since Volkswagen's "diesel-gate" scandal in 2015, the brand has been working hard to recover its reputation and regain the trust of American consumers. As part of its strategy to expand its electric vehicle (EV) presence in the US market, Volkswagen plans to invest $86 billion in EV development globally between 2023 and 2027.
Volkswagen has plans to launch at least five new electric vehicles in the American market by 2025, and already has two new offerings – the Taos SUV and the ID.4 electric SUV – available for purchase. The Taos is Volkswagen's entry-level SUV, and has received positive reviews for its spacious and high-quality interior, as well as its comfortable ride. The ID.4, on the other hand, has been touted as a serious rival to the popular Tesla Model Y due to its impressive range and performance.
In addition to these models, Volkswagen has confirmed plans to launch two new performance variants of the Golf – the GTI and the Golf R – in the American market. These models have long been popular among driving enthusiasts for their sporty performance and handling.
Volkswagen also plans to introduce the Arteon midsize luxury sedan with coupe-like styling to American consumers. While the Arteon has been available in Europe for a few years now, it has not yet made its way to the US market. However, with its attractive design and high-end features, it is sure to make an impact when it does arrive.
And last but certainly not least, Volkswagen is expected to launch an electric version of its iconic Microbus in 2023. This much-anticipated model has generated a lot of buzz among consumers who are excited to see the return of the beloved "hippie van" in a modern, environmentally-friendly form.
With these exciting new models on the horizon, it's clear that Volkswagen is serious about expanding its presence in the American market and remaining competitive in the rapidly-evolving automotive industry. As a Volkswagen enthusiast, I am thrilled to see the brand investing in EV technology, and I can't wait to test drive these upcoming models myself.
3. Volkswagen Taos: Entry-level SUV launched in 2021
As I look into Volkswagen's plans to launch upcoming cars in the USA, I can't help but start with the Volkswagen Taos, their entry-level SUV. Launched in 2021, it is already one of Volkswagen's best-selling models.
With its bold design and smart styling, the Taos is undoubtedly a presence on the road. Its compact size and turbocharged engine make it easy to maneuver through tight spaces while still providing plenty of power. Plus, with its attractively low base price and big fuel savings, it offers great value for its price point.
While the Taos is relatively new, Volkswagen has already added new content for the 2023 model year, which I find impressive. As I explore other Volkswagen SUV models, the Taos stands out for its combination of style, features, and affordability.
Based on my research and experiences, I would recommend the mid-level SE model as it provides the best value. Boasting features like wireless charging and a customizable digital cockpit, the SE model offers a great balance between price and features.
Overall, the Volkswagen Taos has become a notable player in the extra-small SUV market, and I can see why. Its combination of style, features, and affordability make it a compelling option for anyone in the market for a compact SUV.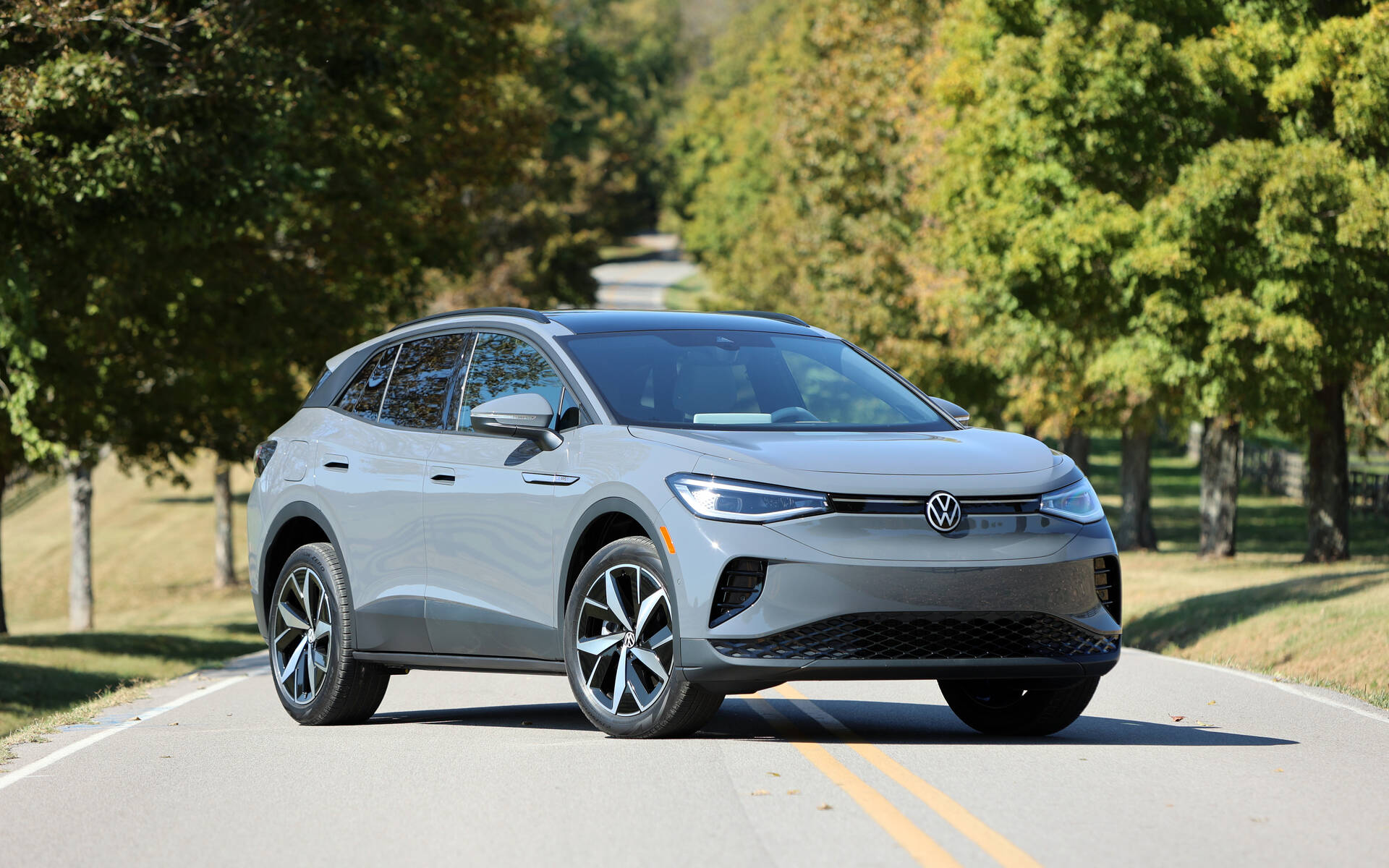 4. Volkswagen ID.4: The all-electric SUV
As a fan of all-electric SUVs, I was thrilled to learn about the 2023 Volkswagen ID.4. This vehicle was designed to deliver on all my needs, including style, practicality, and driving range. The fact that it is also assembled locally in Chattanooga, TN makes it even more appealing.
The 2023 Volkswagen ID.4 offers more value and features than any other electric-vehicle model in the United States and worldwide. With a starting price of $37,495, it is also one of the more affordable EVs on the market today.
But the ID.4 is not just about price and value. It is a high-quality electric SUV with a spacious cabin, comfortable ride, and solid real-world electric range. Introduced in 2021, it is an all-electric SUV that's about the size of Volkswagen's compact Tiguan, making it an attractive option for those who prefer a smaller SUV.
The ID.4 is built on a platform designed specifically for electric vehicles, which means it has been optimized for efficiency and performance. The electric motor produces 201 horsepower and 228 pound-feet of torque, providing plenty of power for daily driving. The battery offers an estimated range of up to 250 miles on a single charge, making the ID.4 suitable for longer trips as well.
The interior of the ID.4 is spacious, comfortable, and filled with advanced technology. The standard features include a 10-inch touchscreen infotainment system, voice recognition, and wireless phone charging. The ID.4 also includes driver assistance features like adaptive cruise control and lane-keeping assist.
For anyone looking to switch to an all-electric SUV, the 2023 Volkswagen ID.4 would be an excellent option. Its combination of practicality, comfort, and driving range, makes it a strong competitor in the EV market. I would definitely recommend taking a closer look at this all-electric SUV.
5. Volkswagen Golf GTI & Golf R: Performance variants
As someone who loves cars that deliver unmatchable performance, I was excited to learn more about Volkswagen's upcoming Golf GTI and Golf R. These performance variants are expected to hit the American market in 2023 and 2024 respectively, according to Volkswagen's expansion strategy.
Apparently, Volkswagen plans to retain the distinct bodykits for the performance-focused models, which is great news for enthusiasts like myself. Even the base Golf is also expected to look sharper than ever before.
Now, let's talk about the specs. The Golf R is equipped with a 315-horsepower turbocharged 2.0-liter four-cylinder engine and all-wheel drive. Needless to say, this makes the compact hatchback a thrilling ride. In fact, it makes me a bit sad that crossovers and SUVs are becoming more popular these days.
But Volkswagen isn't stopping at just engine power. They're also giving the Golf R a sport-tuned suspension and other performance enhancements we'll hear more about in the future. Suffice it to say that the Golf R is designed to deliver a strong performance that will surely impress driving enthusiasts.
The Golf GTI is expected to offer similar performance enhancements, including a turbocharged engine and a quick six-speed manual transmission. It's also going to be loaded with vehicular technologies, according to the reports we've seen.
As someone who appreciates cars that are not only reliable but also fun to drive, I'm excited to see Volkswagen's upcoming Golf GTI and Golf R hit the market soon. For those of us who love to feel the road beneath our feet, these two Golf models look like they'll deliver just what we want.
6. Volkswagen Arteon: Midsize luxury sedan with coupe-like styling
As I mentioned earlier in my Volkswagen Upcoming Cars in USA 2023 & 2024 blog, the Volkswagen Arteon is a midsize luxury sedan that boasts an incredibly sleek exterior design with coupe-like styling. I had the pleasure of test-driving this premium sedan and I must say, I was thoroughly impressed.
Firstly, the Arteon's spacious and modern interior caught my attention. The seats were incredibly comfortable, and there was a lot of cargo capacity. When I folded the rear seats down, I was amazed at how much the Arteon could hold. It felt like I was driving a small van, not a luxury sedan.
The Arteon's 2.0L turbocharged engine and IQ.DRIVE made for a smooth and dynamic driving experience. And, with the available 4MOTION all-wheel drive configuration, the Arteon had an advantage over its competitors like the Nissan Maxima.
The interior design is both sporty and upscale, giving it a luxurious feel. The Arteon is priced like a luxury car, and I can definitely see why. It feels like one inside.
The Volkswagen Arteon is ranked #9 in Luxury Small Cars by U.S. News & World Report, and it's easy to see why. The combination of its style, performance, and interior space make it a strong contender.
In short, the Volkswagen Arteon is the perfect midsize luxury sedan for anyone looking for a stylish and modern ride with an ample amount of cargo space. It's clear Volkswagen has put a lot of thought into the Arteon's design, and it shows in both the exterior and interior of this beautiful vehicle. I highly recommend giving this premium sedan a try.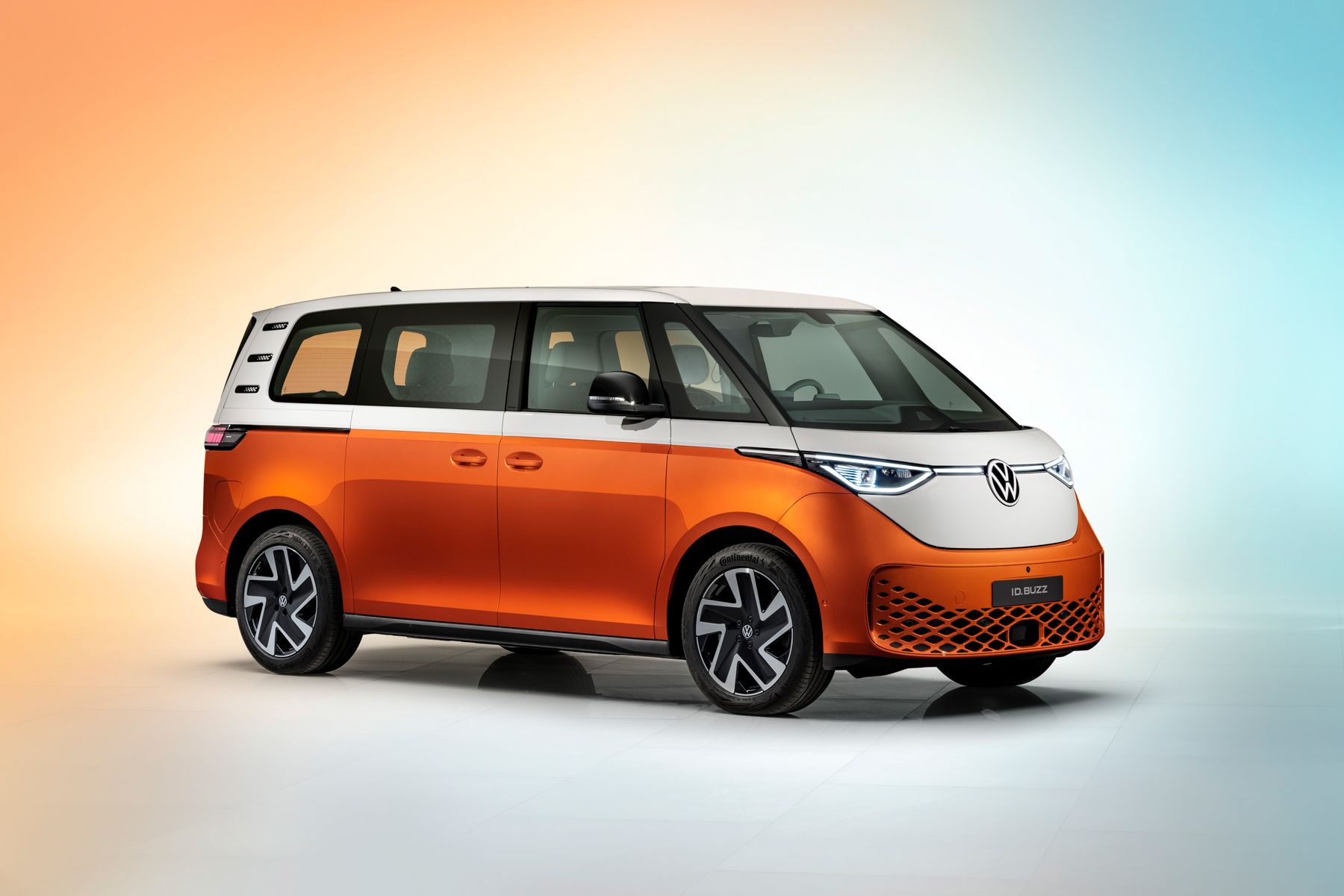 7. Volkswagen Microbus EV: Iconic minivan's electric variant expected in 2023
As a car enthusiast, I am eagerly awaiting the arrival of the Volkswagen Microbus EV in 2023. This iconic minivan has been reimagined for the modern age, with a fully electric powertrain that promises zero-emissions driving and a range of up to 300 miles.
The Microbus EV is based on Volkswagen's dedicated battery-electric MEB platform, which provides a solid foundation for this spacious family vehicle. Its distinctive styling pays homage to the classic Type 2 Microbus of the 1960s, with a curved roofline, two-tone paint scheme, and a wide, friendly face.
Inside, the Microbus EV is designed for maximum comfort and convenience. It can seat up to eight passengers in a spacious, airy cabin, with plenty of head and legroom for everyone. The second-row seats can swivel to face forward or backwards, making it easy to chat or play games on long road trips.
Under the hood, the Microbus EV is powered by a dual-motor electric drivetrain that delivers instant torque and smooth acceleration. It can go from 0 to 60 mph in around 6 seconds, and reach a top speed of 99 mph. The battery pack is located beneath the floor, which helps to lower the center of gravity and improve stability.
The Microbus EV also comes with a range of advanced safety and convenience features, including adaptive cruise control, lane departure warning, automatic emergency braking, and a large panoramic sunroof. It will be available in both short and long-wheelbase versions, with the latter offering three rows of seats.
Overall, the Volkswagen Microbus EV is shaping up to be a truly innovative and practical family vehicle. Its retro-inspired styling and eco-friendly powertrain make it a standout choice for anyone who values style, sustainability, and utility. I can't wait to get behind the wheel and take this iconic minivan for a spin in 2023!
8. Volkswagen Tiguan: Midsize SUV with 3-row seating
As someone who is always on the lookout for a spacious and functional SUV, I was excited to hear that the 2023 Volkswagen Tiguan offers a third row of seating. This midsize SUV is not only practical, but also boasts a sleek and modern design that catches the eye.
One of the things that impressed me most about the Tiguan is its versatility. It can comfortably seat up to seven passengers, while still providing plenty of cargo space. The interior is well-crafted and offers a range of high-tech features, making any journey an enjoyable experience.
Another aspect that sets the Tiguan apart from other SUVs in its class is its fun-to-drive personality. The handling is precise and responsive, providing a smooth and comfortable ride. And with the available 4MOTION all-wheel drive, the Tiguan can handle any terrain with ease.
The 2023 Volkswagen Tiguan is an excellent option for those seeking a midsize SUV with 3-row seating. Its combination of practicality, style, and fun-to-drive characteristics make it a standout in its class. I look forward to seeing more of Volkswagen's upcoming cars in the USA, as they continue to expand their presence in the American market.
9. Volkswagen Amarok: Midsize truck expected to enter the US market in 2022-23
As someone who has been following Volkswagen's expansion strategy in the American market, I am excited about the upcoming launch of the Amarok midsize truck in 2022-23. This powerful pickup has already made a name for itself in other global markets and is expected to bring a fresh perspective to the already competitive American midsize truck segment.
Based on the new Ford Ranger, which has been a popular choice among American pickup enthusiasts, the second-generation VW Amarok will offer a reliable and efficient ride, thanks to its shared chassis, suspension, drivetrains, and gearboxes. Moreover, the Amarok's unique design and advanced features, such as its spacious cabin, advanced infotainment system, and top-notch safety technology, are sure to set it apart from its competitors.
As a midsize truck, the Amarok offers a perfect balance of versatility and practicality, making it a great option for those seeking a reliable workhorse vehicle that can also handle weekend adventures. According to Volkswagen, the finished truck is set to be produced in South Africa, with plans to sell it "in Australia and New Zealand, numerous South American markets, as well as in Europe and Africa." If the Amarok is successful in these markets, the company intends to bring it to the United States as well.
With the American midsize truck market growing rapidly, the VW Amarok is poised to make a splash in the industry with its impressive performance, advanced features, and sleek design. I can't wait to see this midsize truck on the road and to see how it performs in the hands of American drivers. Overall, Volkswagen's expansion strategy in the American market seems to be right on track, and the Amarok is yet another promising addition to their impressive lineup of upcoming vehicles.
10. Conclusion: Volkswagen's Future Plans for the US Market
As I wrap up this blog about Volkswagen's upcoming cars in the USA for 2023 and 2024, it's clear that the German automaker has big plans for the American market. Volkswagen's expansion strategy shows their commitment to dominating the auto industry's electric future in the United States.
With the upcoming release of the long-wheelbase passenger model in 2023 and the arrival of the Honda Prologue, Volkswagen is poised to make a significant impact in the electric SUV market. The Volkswagen ID.4, an all-electric SUV, is already generating buzz among car enthusiasts with its eco-friendly design and impressive performance.
Not forgetting about car lovers with a need for speed, Volkswagen is also launching the Golf GTI and Golf R, both performance variants of the popular Golf hatchback. The Arteon, a midsize luxury sedan with coupe-like styling, offers drivers a stylish and sophisticated option.
The highly-anticipated release of the Microbus EV in 2023, the electric variant of the iconic minivan, is sure to attract fans of the classic vehicle. Meanwhile, the Tiguan, a midsize SUV with 3-row seating, provides a practical option for families on the go.
Finally, the Amarok, a midsize truck expected to enter the US market in 2022-23, tells us that Volkswagen is ready to compete with other automakers such as Ford and Chevrolet in the American pickup truck category.
Overall, Volkswagen's future plans for the US market look promising, and I have no doubt that their electric offerings will be highly sought after. With their NEW AUTO – Mobility for generations to come, Volkswagen is positioning itself for long-term success in the American market.