The prestigious American brand of bicycle components has launched the highly anticipated SRAM Eagle Powertrain, which in addition to being its first electric assistance system, comes with important surprises.
There are more and more electric systems for eBikes , since it is not in vain that we are talking about a segment that has clearly been booming for three years. Now, a brand as prestigious as SRAM joins Bosch, Fazua, Yamaha, TQ, Shimano and others in the search for a share of the market.
And the truth is that it does so with a very strong commitment, since it has not been content with presenting an electric motor, but goes much further.
Starting at the beginning, SRAM has actually put the rest into everything except the electric motor, since instead of developing its own it has chosen the 90 Nm and 2.9 kg unit from the Brose brand .
This is now accompanied by exclusive SRAM components such as the AXS Eagle transmission associated with sensors that make automatic shifting possible. The two wireless pushers are used to change crowns manually, activate or deactivate the automatic transmission and modify the sensitivity of the latter.
The speed sensor is responsible for collecting information about the crowns most used by the cyclist, the number of times it is changed or its cadence. The automatic transmission works based on the information provided by the speed sensor and the engine. The system learns on the fly thanks to artificial intelligence and, as kilometers and departures accumulate, the change is more natural and intuitive.
Two modes of use and change without pedaling
The automatic transmission works in two modes. The first, called Range , selects the most appropriate crown to maximize autonomy. The second, called Rally , selects the most suitable ring gear to maximize performance.
In addition, the system allows shifting without pedaling in the image and similarity of the Shimano Freeshift gear . This type of transmission is useful in situations such as:
Steep climbs
Downhills
Sudden slope changes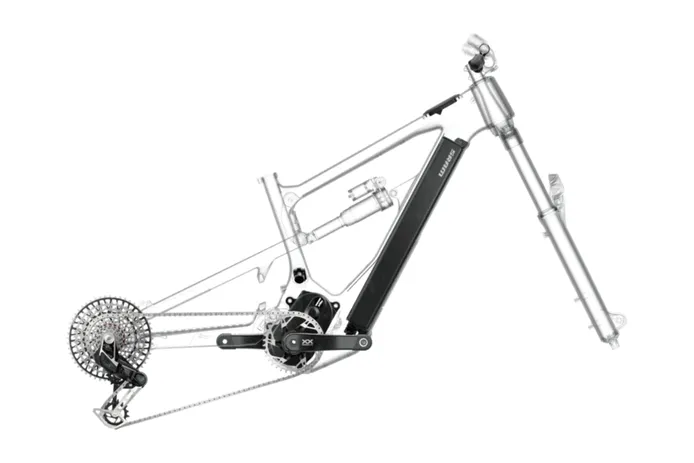 The new SRAM Eagle Powertrain also includes a frame top tube display that shows system status information such as assist mode, battery level and speed. For its part, the powered battery has a capacity of 630 or 720 Wh .
The SRAM Eagle Powertrain will be available as standard on several new eBike models from brands such as Transition, Nukeproof, Propain and GasGas. The system is also compatible with RockShox Flight Attendant electronic suspensions .
Photos: SRAM