The Pixel Watch 2 by Google maintains its design while replacing important elements to enhance performance, featuring a brighter screen and longer battery life. Additionally, it incorporates beneficial health, fitness, and safety functionalities. These improvements position it as a potential top contender among smartwatches.
GOOGLE PIXEL WATCH 2: ONE-MINUTE PREVIEW
The Google Pixel Watch 2 follows a similar path to its popular predecessor, which is generally a positive thing.
At first glance, the design of the new smartwatch remains unchanged. Google did make some improvements to the digital crown to enhance usability, but the screen and dimensions remain the same as the original Google Pixel Watch. However, appearances can be deceiving. The cover glass is now thinner (although Google assures it is equally durable), and the body is constructed from lightweight, recycled aluminum. Together, these modifications noticeably reduce the weight of the watch, according to Google.
More importantly (and perhaps more noticeably), this watch incorporates new components and a significant platform update. It features a new quad-core processor and is powered by Wear OS 4.0, making it one of the best choices for a Wear OS watch currently available, if not one of the top smartwatches overall.
Noteworthy new features include the Personal Safety Check and improved automatic detection of workout start and stop times. The Google Pixel Watch 2 may also offer better recognition of your workout performance, thanks to the watch's new multi-path heart rate sensor located on the back.
These are just our initial impressions of the Google Pixel Watch 2. If you're interested in learning more about this year's October Made by Google Event, you can read our early reviews of the Google Pixel 8 and Google Pixel 8 Pro.
The screen of the device still has a large black border around it, but now it has an Always On mode enabled by default. Despite this, it still maintains a battery life of 24 hours, as claimed by Google.
If you're willing to wear the watch while you sleep (keep in mind it's lighter, providing more comfort), you might appreciate the faster charging capability. This is made possible by the four physical charging pins at the back, which is different from the wireless charging used in the previous model.
According to Google, you can charge up to 50% in less than 30 minutes. So, if you want a quick charge before going to bed and don't want to charge it again in the morning when you head to work, the Pixel Watch 2 makes that possible.
Moreover, if you're interested in gathering more data about your sleep, the Pixel Watch 2 has you covered with a new temperature sensor for your skin. Additionally, while you're awake, the new continuous electrodermal activity (CEDA) sensor could help identify signs of stress.
Overall, this appears to be a smart and secure update. Google didn't completely overhaul the design, but they have made substantial changes in almost every other aspect, including the CPU, key sensors, and even the charging method. With the introduction of Wear OS 4.0, safety enhancements, and some new capabilities from Fitbit, this update could be one to keep an eye on in the world of smartwatches.
GOOGLE PIXEL WATCH 2: SPECIFICATIONS
| | | |
| --- | --- | --- |
| Component | Google Pixel Watch 2 | Apple Watch Series 9 (41mm) |
| Price | From $349 / £349 / AU$549 | From $399 / £399 / AU$649 |
| Dimensions | 41 x 12.3 mm | 41 x 35 x 10.7mm |
| Weight | 31 g | 32.1g (aluminum) |
| Case/bezel | Aluminum | Aluminum or stainless steel |
| Display | 384 x 384 px always-on AMOLED 320 ppi | 352 x 430 px always-on OLED Retina Display |
| GPS | Yes | Yes |
| Battery life | 24 hours, Fast Charging | 18 hours |
| Connection | Bkuetooth 5.0, WiFi, 4G LTE | Bluetooth 5.3, Wi-Fi, LTE options available |
| Water resistant | Yes, 5ATM | Yes, WR50 (swimproof) |
GOOGLE PIXEL WATCH 2: PRICE AND AVAILABILITY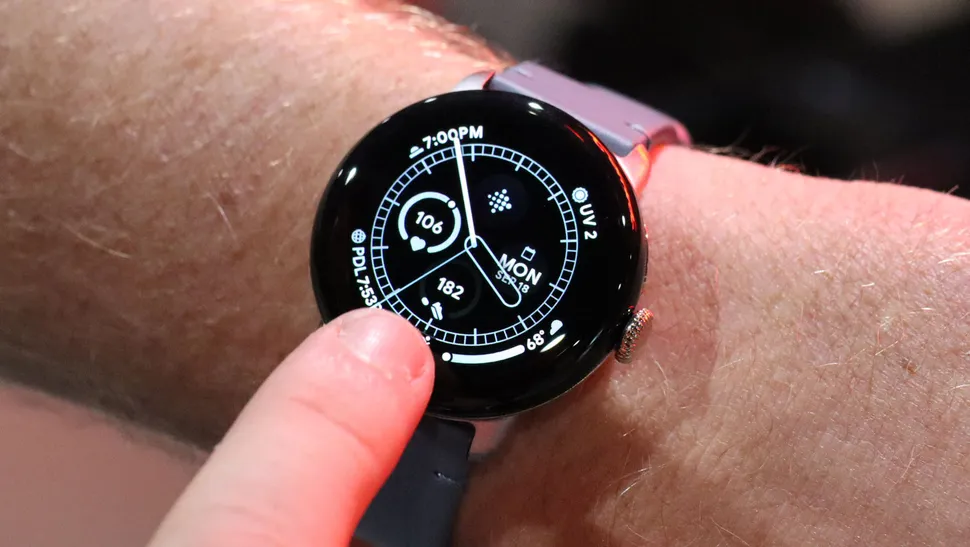 Starts from $349 (WiFi) $399 (LTE)
Prices £349 and £399 in the UK, AU$549 and AU$649 in AU
One size: 41mm
Google introduced the latest iteration of its smartwatch, the Google Pixel Watch 2, alongside the new Google Pixel 8 and Pixel 8 Pro, on October 4th.
In the United States, the starting price for the WiFi-only model of the Google Pixel Watch 2 is $349. In the United Kingdom, it is priced at £349, and in Australia, it costs AU$549. If you opt for LTE connectivity, the price increases to $399 in the US, £399 in the UK, and AU$649 in Australia.
Preorders for the watch commenced on October 4th, and shipments are set to begin on October 12th. The Google Pixel Watch 2 is available in four different color combinations: Polished Silver/Bay, Polished Silver/Porcelain, Matte Black/Obsidian, and Champagne Gold/Hazel.
GOOGLE PIXEL WATCH 2: DESIGN
Maintains elegance of original design
Lighter aluminum body
Redesigned digital crown 
The original Pixel Watch from Google was highly regarded for its stylish design, and its successor, the Google Pixel Watch 2, lives up to that reputation.
The newly thinner glass cover and recycled aluminum body still have a cohesive appearance. Its rounded shape is visually appealing and provides a satisfying tactile experience. Google managed to reduce the overall weight by approximately 10% while keeping the dimensions of the 41mm watch unchanged, making it suitable for everyone.
One notable improvement in terms of aesthetics is the redesign of the digital crown. Google mainly focused on altering the stem leading to the crown, giving it a more traditional watch appearance and, more importantly, enhancing its usability.
Although Google didn't make any modifications to the slightly challenging band attachment system, they did introduce some fresh bands, including six fitness bands. While I didn't have the opportunity to try them on, I can confirm that the material felt comfortable to the touch.
GOOGLE PIXEL WATCH 2: FEATURES
New Safety features
Skin temperature sensing
New watch faces and complications
Better heart rate sensor
I didn't have much time with the new Pixel Watch 2, but it's likely that the improved quad-core processor will lead to smoother operation. However, the most significant changes will probably come from the updated Wear OS 4.0.
This system update will introduce new core applications like Calendar, Gmai, and an enhanced Google Assistant.
Regarding Health and Fitness, the Pixel Watch 2 will have a feature similar to the one found in the Apple Watch Series 9 and Samsung Galaxy Watch 6, which automatically detects when you start and finish your workout. This is one of my favorite features on the Apple Watch, so I'm glad to see it included here.
Additionally, there will be a new heart rate zone designed specifically for runners. It can assist with pace coaching and send alerts when you deviate from your desired zone.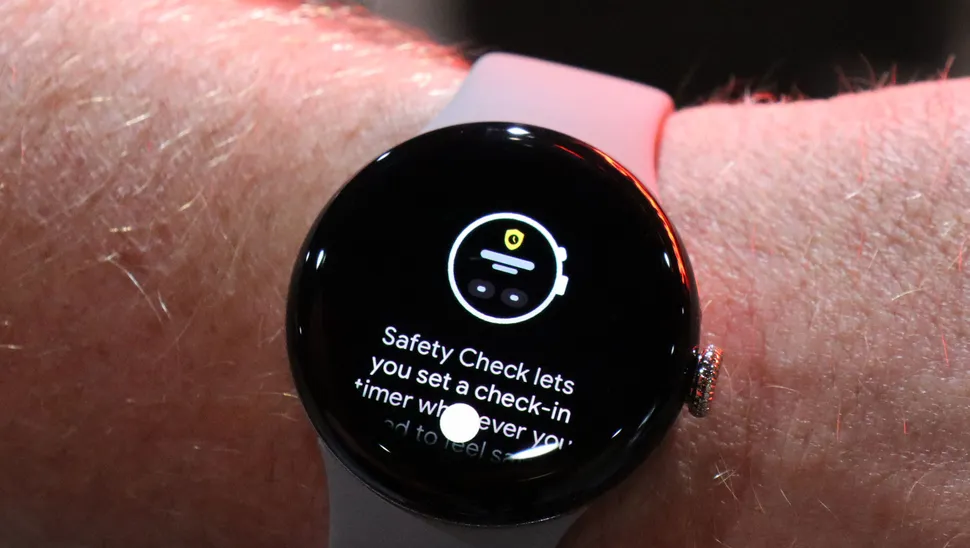 When it comes to the heart, the latest heart rate sensor is made up of multiple sensors, which, according to Google, can accurately monitor your heart rate during intense workouts. Google claims it's about 40% more precise compared to the original Pixel Watch's optical heart rate sensor, similar to the Fitbit Charge 6's 60% enhancement over the Charge 5. This improvement is achieved by transforming the single-point sensor on the original Google Pixel Watch into four wrist contact points.
The watch also features a new sweat detector called CEDA, which can gauge your stress level.
Apart from these health and activity enhancements, the Google Pixel Watch 2 now incorporates Personal Safety functionalities as well. With the Safety Check, you can set a timer, and if you fail to respond when it ends, the watch can automatically send a message containing your real-time location to your emergency contact.
Typically, this functionality would require not only the LTE version of the Pixel Watch 2 but also a monthly carrier contract. However, Google will offer it as a complimentary feature for Fitbit Premium subscribers. Fitbit Premium is a paid service, costing $9.99 / £7.99 / AU$15.49 per month. Nonetheless, all new Pixel Watch 2 customers will receive six months of free Fitbit Premium.
I had a demonstration of the new Safety Features, and I found them to be straightforward, succinct, and practical.
GOOGLE PIXEL WATCH 2: EARLY VERDICT
I've only spent a few hours with the new Google Pixel Watch 2, so it's too early to give a final judgment. However, I'm generally satisfied with the appearance, feel, and functionality of Google's latest smartwatch.
Although I would have liked a larger display, the new watch faces are rich in information, and the interface seems tidy and quick to respond.
I'm a bit surprised that Google decided to replace the inductive charging feature with four physical pins, but the rationale behind it is logical. After all, who wouldn't want faster charging so they can quickly get back to bed with their smartwatch for accurate sleep and temperature monitoring?
With the new quad-core processor and updated Wear OS 4.0, the Pixel Watch 2 should offer improved responsiveness and user-friendliness.
Google has kept the prices unchanged, although I can't help but think that the Pixel Watch 2 could become a top seller if they lower the price of the WiFi model to $299.
Stay tuned for our comprehensive review for more details.