Here we are ! That time of year when marketers think about their social media strategy for the next 12 months…
This is also the perfect time to think about delegating your community management to a freelance social media manager .
If 2022 was still under the post-pandemic sign, 2023 promises to be different with social network trends that combine authenticity, metaverse, snack content and after-sales service!
1. Social media ads: the solution to survive the end of cookies
The end of cookies is scheduled for 2023! The protection of the personal data of Internet users being at the center of its concerns, Google wants to give up these "spy cookies". Are you afraid that this will affect your marketing campaigns? The solution may lie in social media ads .
For what ? Because social networks are very good at collecting information about their users. For example, Facebook has about 52,000 data points on each user on the platform.
This first-party data is then broken down into thousands of targeting criteria that help you reach an audience similar to your current customers.
Even though companies like Apple limit tracking possibilities, you can still:
Configure audiences with a profile similar to your prospects, thanks to targeting criteria;
Configure audiences with a profile similar to your Facebook and/or Instagram subscribers;
Target users who engage with your Facebook or Instagram content;
Launch 

retargeting

 on your newsletter subscribers;
Re-engage visitors to your website who have accepted cookies.
The marketing potential of social media ads is still very strong and could help you succeed in 2023!
2. Metaverses are getting bigger and bigger on social media
Metaverses are defined as parallel virtual worlds, combining social networks, video games and e-commerce.
They caused a lot of ink to flow in 2021, before starting their deployment in 2022 (Facebook in the lead) and continuing their progress in 2023. Indeed, the metaverse concept is of interest to big names in technology such as Microsoft and Tencent , who develop their own virtual universe.
Estimated at 800 billion dollars, this market will become even more competitive. If your company already has virtual fitting rooms, organizes online meet-ups or uses Augmented Reality filters , you can easily propose your own "meta" universe and broadcast it on social networks.
3. Benevolence and authenticity at the heart of social media trends
Following the emergence of trends such as body-positive, many brands, as well as influencers, have decided to stop using filters or retouching on photos.
In addition, companies will have to demonstrate authenticity, transparency and humanize their content if they want to maintain their communities. A study by Sprout Social shows that 57% of customers who feel connected to a brand are ready to increase their spending with it; 76% will even choose this brand over a competing product.
This proves that consumers want to build an emotional connection with the brands they buy from and follow on social media.
Moreover, it is no coincidence that the BeReal social network has taken off since September 2022! The most downloaded app on the App Store in October 2022 values ​​naturalness and authenticity.
Its principle is simple: encourage each member to share an unretouched selfie with a group of friends. A notification is sent daily to the user's smartphone, reminding him to post a photo.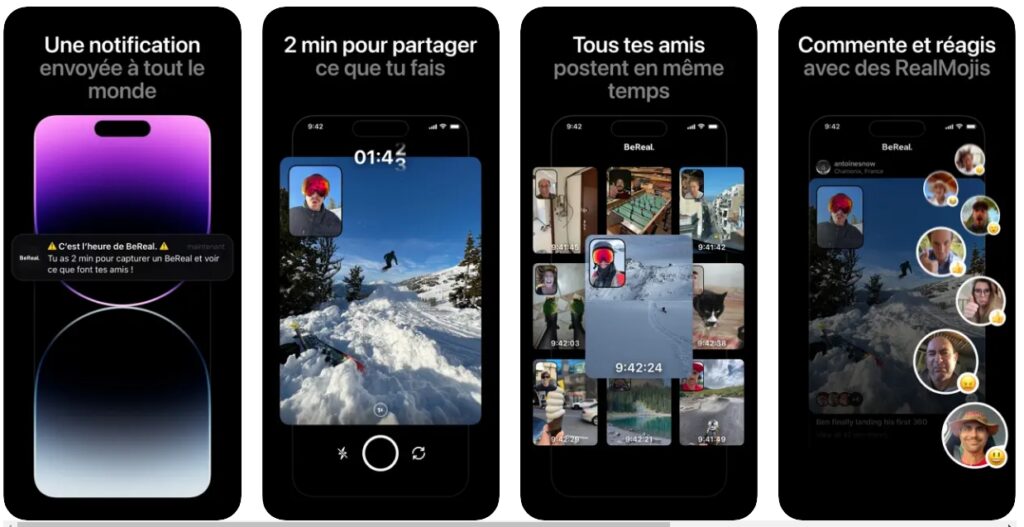 An original and modern way to regain self-confidence, far from the sophisticated images of Instagram or TikTok. If the application is not yet open to companies, it clearly proves this constant need for body-positivism and authenticity in the digital sphere.
4. The advent of the Reels format
Reels are everywhere! On Instagram and Facebook, of course, but also on YouTube (under the name of Shorts) and on TikTok (native format). We also find this format on Snapchat. Hard to escape…
Their main asset? They do not require professional equipment… Should we see an opportunity for brands with a limited budget ? Yes, clearly!
This content produced via smartphone has humanized business communication. They add a touch of authenticity to your social media strategy, which is fully in line with the trend seen just above.
So, if you haven't taken the plunge yet, 2023 is the perfect opportunity to take advantage of these formats to show your brand from another angle.
5. The reign of TikTok
If Facebook remains the most popular social network, it is TikTok that has captured the hearts of younger generations. The app is gaining popularity even faster than experts predicted!
According to eMarketer's forecast, the percentage of Facebook users under 25 will drop to less than 15% in 2023. Conversely, on TikTok, 44% of users will be under 25 in 2023.
In fact, 20% of Generation Z spend more than five hours a day on TikTok. Nearly 40% of under-25s say they watch videos on the platform to learn about (and buy) new products.
In 2021, only 3% of marketers said this social network was the most effective for achieving their business goals. In 2022, this number increased by 700%: 24% said that TikTok was the most successful platform.
If your typical customer is under 25, consider deploying a social media strategy on TikTok in 2023!
6. The return of snack content in social media trends
Are trends on social networks an eternal repetition, like trends in fashion? In recent years, posts were rather long, detailed, almost like a blog post. The more time users spent on a post, the better.
Except that for the past few months, we have been witnessing a strong comeback of short and easily assimilated content. The proof: the LinkedIn carousel is a star format, whose reach remains greater. The reason ? The carousel is a simple and fun way to consume information on your phone.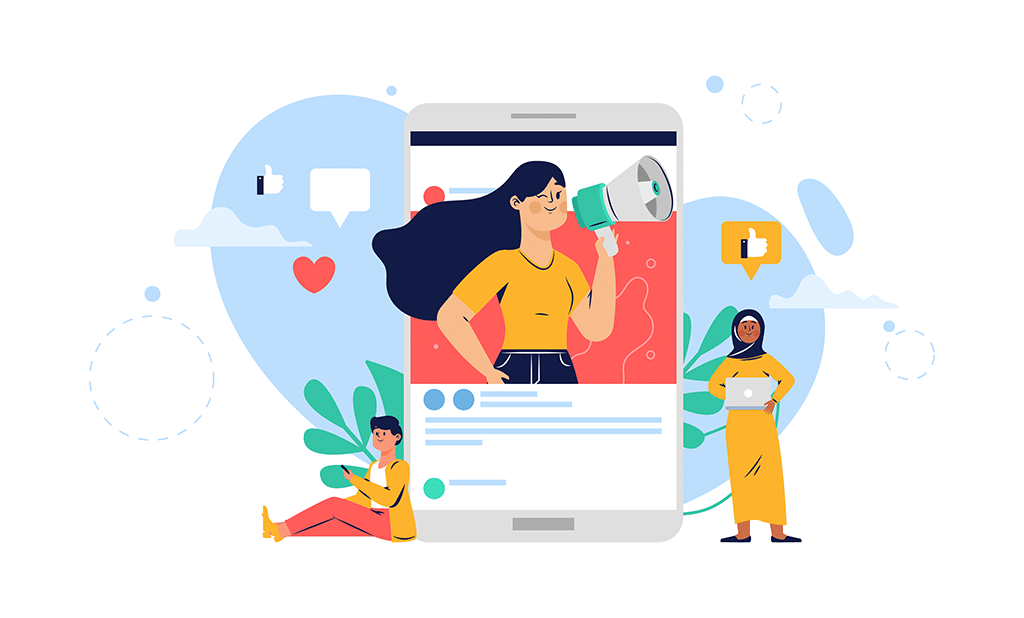 Video is still and always a popular format. However, as we saw earlier with Reels, the focus is on dynamic, short-lived clips. By the way, did you know that 73% of consumers prefer to watch a short video, to get information about a product or service, according to a Wyzowl report .
However, who says "snack content" does not necessarily mean poor quality! Producing relevant content must remain your priority in 2023. If you need help creating posts with high added value, consider getting support from a community manager .
7. Billionaires take to social media
If you are told "billionaire" and "social networks", you necessarily think of the takeover of Twitter by Elon Musk. An event that caused a lot of ink to flow, in particular because of the interference of the entrepreneur who sparked the buzz.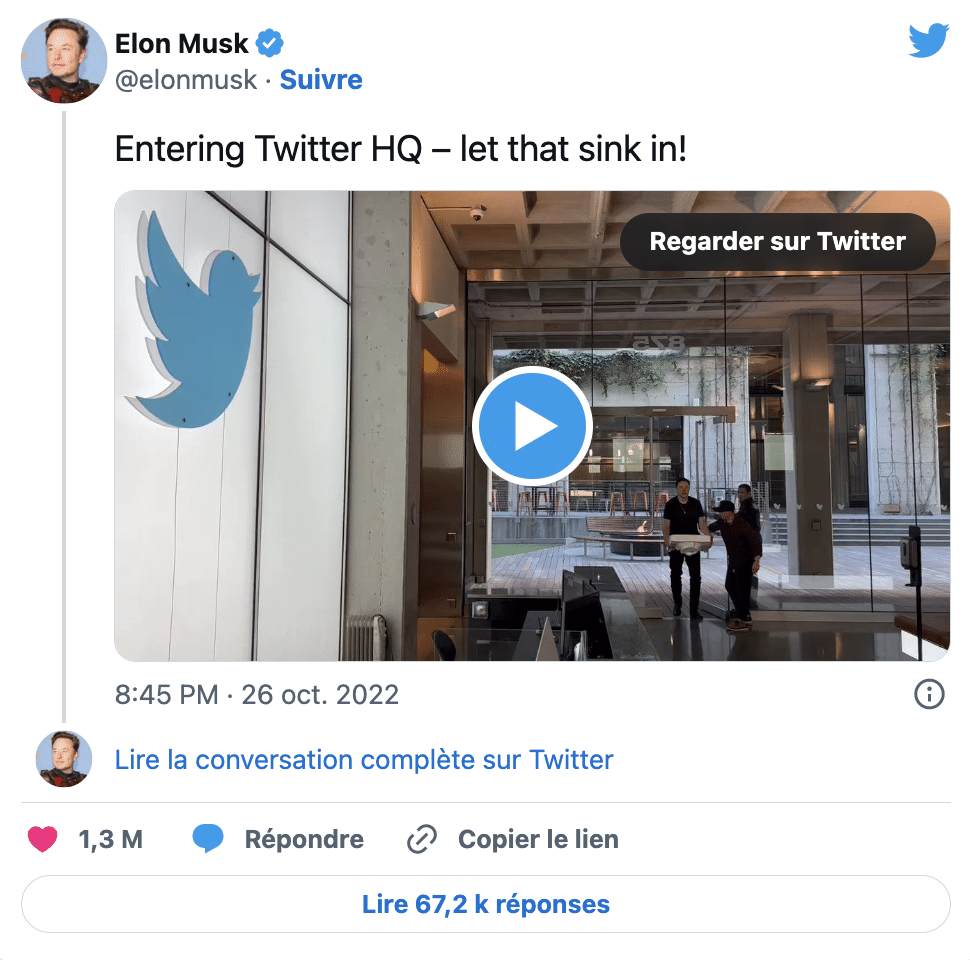 If it is difficult, at present, to know what Twitter will become, we must now get used to this type of news.
Jeff Bezos bought Twitch in 2014; Peter Thiel (PayPal) financed Rumble in 2021 and Kanye West wanted to buy the social network Parler in October 2022. It is therefore not the first time (nor the last) that a famous personality seeks to acquire a social platform.
What does this change for brands? Not much, except that social networks risk becoming less "social" and more "business"… Stay tuned!
8. Social networks replacing search engines
It's a Google study that says it: 40% of 18-24 year olds use social networks as a search engine. In September 2022, the New York Times claimed that "for Gen Z, TikTok is THE go-to search engine."
In addition, a Hootsuite study on Instagram demonstrates the superiority of keywords to hashtags: using optimized expressions increases reach by 30% and doubles engagement.
In 2023, consider using your keywords in your social media posts. You could increase your visibility and further federate your community!
9. Influencer marketing will be nano and micro
Multiple scandals related to influencer marketing have made headlines in recent months. However, consumers are becoming suspicious, especially of famous influencers, some of whom do not hesitate to promote counterfeit, illegal and/or health-hazardous products.
On the other hand, users with hundreds of thousands (or even millions) of followers are prohibitively expensive for most companies.
These two observations mark a turning point in influencer marketing: buyers are now turning to micro and nano influencers. Despite their small number of followers, these influencers often drive higher engagement. Their communities appreciate the authenticity that emanates from their posts. They tend to believe their recommendations more easily and therefore to be tempted by the products offered.
10. Social networks to manage consumer impatience
You know it: buyers are not very patient. According to a study by HubSpot: 90% of consumers want an immediate answer when they ask customer service a question. This demand for speed and personal attention has led many brands to offer customer support through social media.
For example, on Twitter, many brands have launched an account solely dedicated to after-sales service. Here is a brief overview:
A 2022 Khoros survey found that 75% of Twitter users, 59% of Facebook members, and 34% of Instagram subscribers contacted brands on social platforms. About 50% of those people do it for customer service issues.
If you haven't already, it's time to have a process in place to handle consumer inquiries on social media. It is essential that your community manager can deal with pre-sales and after-sales questions quickly, to optimize customer satisfaction and improve your company's image.
11. Discord: the new must-have platform for brands
Particularly popular with influencers (YouTuber, streamers) and brands in the high-tech and IT sector, Discord is a place where communities meet around common passions to discuss and exchange.
Originally designed for gaming, Discord is used today as forums were at the time, with the immediacy that technology offers today.
Discord is a way to engage your community very strongly, where the most loyal members often have the opportunity to become a moderator and get involved on the server. Form of recognition that creates a strong link between the brand or influencer and the community.
Our tip to boost your social networks
Practices on social networks are constantly evolving . To stay ahead of the competition, anticipate these trends and refine your strategy now!